Main Content
Get Your 50 Powerful & Love-Based Headline Words & Phrases
"Traditional direct response copy works by tapping into fear-based emotions (which include fear/worry, shame, guilt, anger). That's why it feels so icky. But you don't have to tap into fear-based emotions to sell — you CAN sell with love by using love-based emotions."
But, does love-based copy actually work?
Sure, it FEELS great to sell with love, but is it possible to grow a successful, profitable business using love-based copy?
My name is Michele PW, the founder of the love-based copy philosophy and the author of the bestselling "Love-Based Business" series of books, and I'm here to tell you that YES it does work.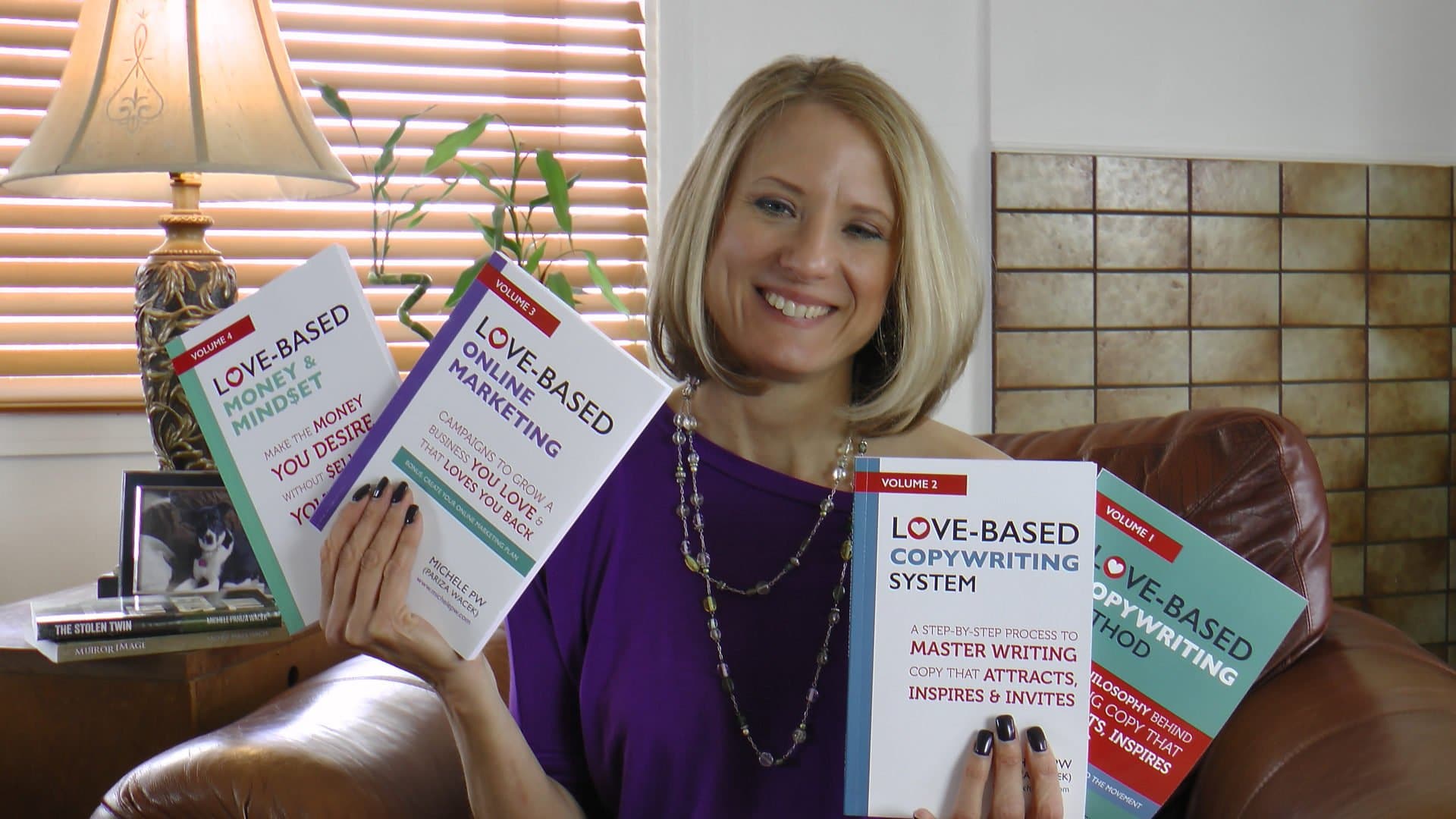 My Love-Based Copy and Marketing Company has used love-based copy and marketing to help ourselves and our clients sell nearly $50 Million dollars of products and services over the past 8 years.
It's also been featured regularly featured in media outlets such as CBS, NPR, Forbes, AZ-TV, USA Today, Voice America, Small Business Trends, Small Business Radio Show, Authority Magazine, Thrive Global, Web.com and E-Commerce Times.

If you'd like more information about love-based copy and why it works, this post is a good place to start.
And, if you're ready to integrate love-based copy into your business, I'd love to help! All you have to do to get started is choose the best way for you:
"Over time, fear-based copy and marketing erodes businesses and brands, while love-based copy and marketing grows them both."
I thought we were doing well with conversions until we hired Michele PW to be our copywriter.  Our key product has typical conversion rates of about 10 - 14% of live attendees.  My business partner asked Michele to review the copy (while I was in the middle of a major move), and after she tweaked it and added several emails to our sequence, our conversion on a last-minute promotion was ALMOST 35%.  It made the move much less painful AND tripled our sales. I should take more days off and let Michele and Erin run the business.  What an amazing gift and result! WOWWOWWOW!

Gail Doby

Chief Vision Officer

www.DesignSuccessU.com

As a marketing expert myself, Michele PW are her team are the only choice when it comes to my program/product launches. She has and eagle eye for the perfect way to position your gift so people will take action. I have made over 6-figures from launches dependent upon strategy she helped me create and copy that brought it to life. The investment in Michele PW and her team is worth every penny and 1000s more!

Lisa Cherney

President & CEO

www.ConsciousMarketing.com

I´ve had the pleasure of working with some of the top marketing minds of our time, and as far as results are concerned, Michele is right there with them. One idea she gave me for one of my recent launches, directly resulted in a 30% increase of sales. I´m planning on implementing that idea on a regular basis the results were so powerful. Thanks Michele!

Mark Harris

Co-founder ThoughtLeaderSecrets.com

www.ThoughtLeaderSecrets.com

With Michele´s expert copywriting and marketing help, we´re averaging an 8% conversion rate! Considering that 1% is typically considered really good by industry standards, we were blown away by the results.

Linda H. Hunt

Owner

www.SumSolutions.com

I´m so grateful for Michele´s expert advice over the years. What she´s done is help me understand how to market myself online -- everything from how to write copy that sells to the correct way to do a product launch. She´s been one of my "not-so-secret" weapons that has helped me grow my business to a consistent 6-figures. I highly recommend Michele and her teachings.

Nancy Marmolejo

Personal Branding & Leadership

TalentAndGenius.com

Thanks to your eagle eye and copywriting changes to ONE simple email I increased registrations for my "Give Your Pricing a Kick-in-the-Pants" Virtual Workshop Intensive by 20%! That´s money that went straight into my bank account!

Kendall SummerHawk

Business and Money Coach

www.KendallSummerHawk.com

Michele PW and her team have been a part of my marketing team for several months now, bringing her strategies and copywriting skills with her, and in doing so has increased our business. In fact, on one recent campaign she´s worked with us on, she helped increase our sales by 34% and increase our revenue on this promotion by 128% - wow! I highly recommend Michele PW and her team to help you with your copywriting and marketing.

Brian Tracy

Chief Executive Officer

www.BrianTracy.com

While I enjoy writing my own copy and it converts well, I´m always looking to learn from an expert in copywriting. Michele's Loved-Based Copywriting System gives me that expertise, in an easy to understand and implement format. I'm constantly referring my clients to Michele's Love-Based copywriting books and school because I know from personally experience and stellar results how effective her system is. If your copywriting isn´t getting the results you want, then you need Loved-Based Copy.

Alicia Forest

The Business Shifter™

AliciaForest.com

"Don't confuse the tool with the wielder. Just because some copywriters and marketers are hype-y, sales-y and manipulative, doesn't mean ALL copywriters and marketers are hype-y, sales-y and manipulative. It's only that way if you USE it that way."